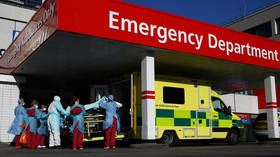 Medical staff take a patient off an ambulance in London © REUTERS/Hannah McKay
By Peter Andrews, Irish science journalist and writer, based in London. He has a background in the life sciences, and graduated from the University of Glasgow with a degree in geneticsMany people are waking up to the fact that the Covid-19 "pandemic" is not turning out as billed. When we finally emerge from it, the big question will be how many people have died from the virus. Here's the most likely outcome.
You can bet that the institutions of international government, and the "experts" advising them, will try to massage and cherry-pick statistics to present the version of events that most closely matches their worst-case scenarios. The fact is, according to their early predictions, we are already long overdue millions of Covid-19 deaths that have failed to materialise.
But even when Covid-19 deaths are recorded, we have seen how it could be that people are dying with coronavirus rather than dying of it. This concept is easy enough to understand, and it encourages one to take a closer look at the breakdown of deaths across an entire society. The more you follow this rabbit hole down, the more interesting the numbers become. It may be somewhat morbid, but it is nonetheless very important.
The most popular twoarticles on the website of The Spectator over the weekend were by Dr John Lee, a recently retired NHS consultant and professor of pathology. He remarks that ''we have yet to see any statistical evidence for excess deaths, in any part of the world''.ALSO ON RT.COMHow lethal is Covid-19 REALLY? Why massive fatality rates from Italy are MISLEADING
To check this out, I looked at the British government's own statistics on total deaths registered weekly across the UK. It shows that in the week ending on the 8th of March 2019, 10,898 people died in total in the UK. This year, in the week ending the 6th of March 2020, the equivalent figure was almost identical: 10,895. Make of that what you will. Statistics are currently available up to March 20, and while there is a lag between the spread of the virus and the resulting deaths, so far only about 1 percent of all mortalities bear any relation to coronavirus, and there is no visible spike. If nothing else, it helps to view the extent of the crisis in proportion – thousands of people die each week, and from the long-term view what we are seeing is not a plague, but a blip.
So when all is said and done, will any additional people die of the coronavirus? And what is meant by extra or additional?