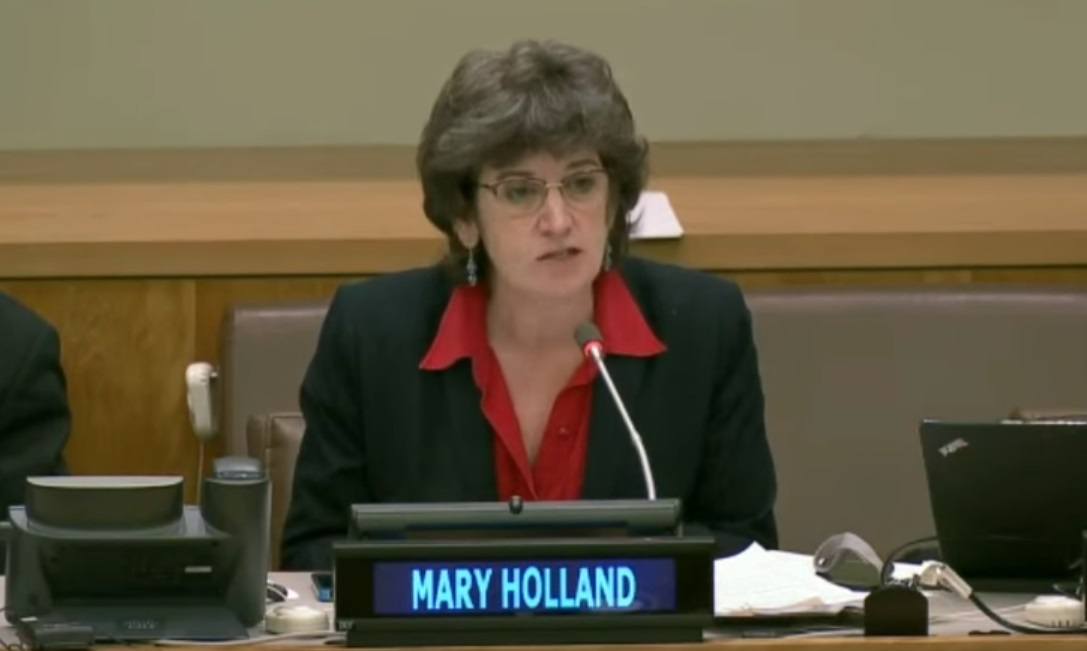 Law Professor Mary Holland addressing the U.N. regarding civil rights related to government vaccine policies.
Comments by Brian Shilhavy
Health Impact News Editor
New York University research scholar and law professor Mary Holland recently addressed the United Nations at the 25th International Health and Environment Conference.
Professor Holland has been one of the lone voices in the U.S. addressing the legal ramifications of removing parental rights to informed consent for childhood vaccines. She has previously written for Health Impact News on this issue. See:
Professor Holland sees major civil rights issues involved in government vaccine policies that remove informed consent rights to refuse mandatory vaccinations. She reminds the United Nations that history has shown us the results of such overt government intrusion into personal medical rights. World-wide human rights legislation has been put into place to protect individuals from government intrusion into medical abuse, starting with the Nuremberg Code just after the atrocities of Nazi Germany after World War II.
Professor Holland states:
[T]he UN and the international community have obligations to respect human rights related to vaccination.

Since World War II, the international community has recognized the grave dangers in involuntary scientific and medical experimentation on human subjects. In the aftermath of Nazi medical atrocities, the world affirmed the Nuremberg Code which stated that the "voluntary consent of the human subject is absolutely essential." The International Covenant on Civil and Political Rights further enshrined this prohibition against involuntary experimentation in its 1966 text, stating "no one shall be subjected without his free consent to medical or scientific experimentation." Such a prohibition is now so universally recognized that some courts and scholars have pronounced the right to informed consent in experiments as a matter of customary international law.
Watch Professor Holland's entire 16 minute presentation to the United Nations, in which she received several ovations from the audience.
Source… https://vaccineimpact.com/2016/n-y-law-professor-addresses-u-n-on-government-vaccine-policies-violating-the-nuremberg-code/