New laws will allow people to sue drug makers for cases involving death or serious illness
Draft legislation follows major rabies vaccine scandal earlier this year and long series of previous incidents
China is planning new laws that would allow people to sue drug makers for punitive damages in cases of death or serious illness caused by faulty vaccines.
The draft Vaccine Management Law, posted online for public consultation on Sunday night, follows the country's largest vaccine safety scandal earlier this year.
The State Administration for Market Regulation said past scandals have exposed numerous flaws in supervision and in vaccine production and distribution.
The new legislation is designed to establish a long-term supervision system by integrating articles from different pieces of legislation.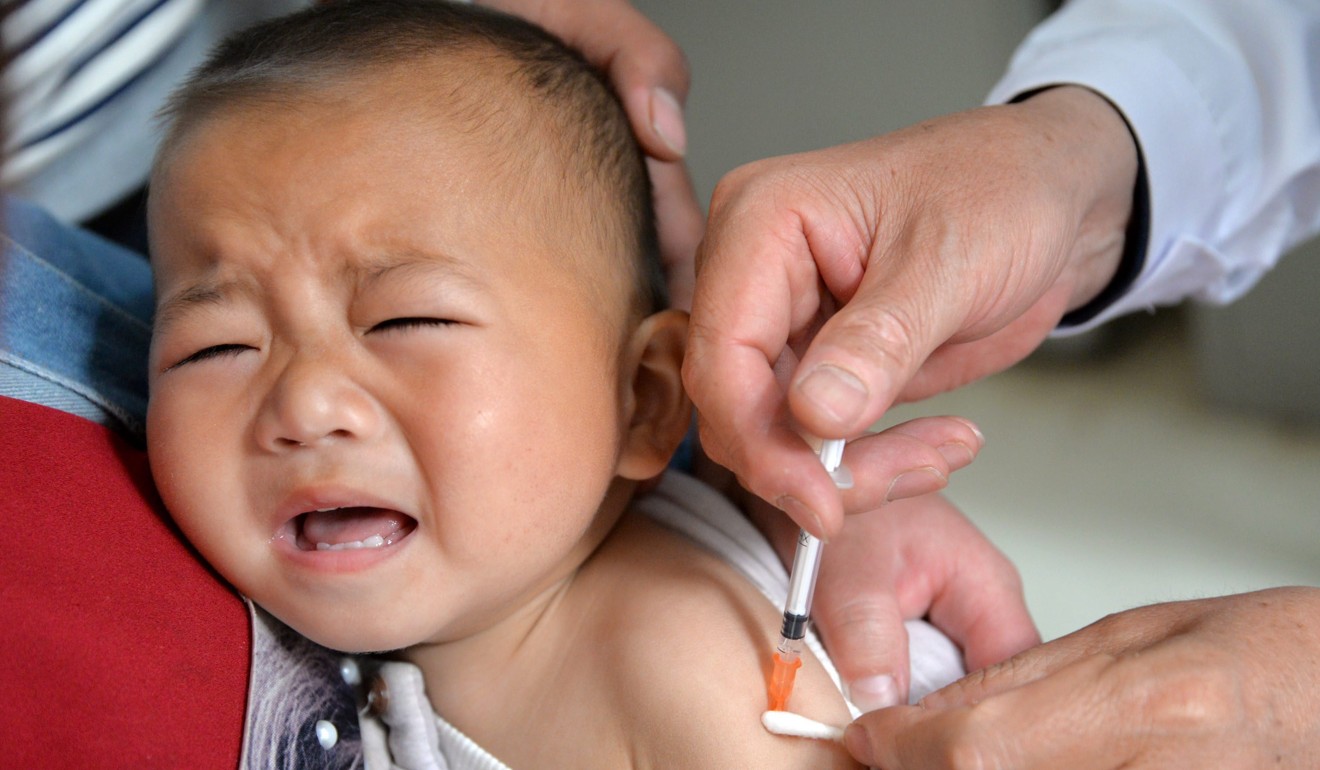 The law would allow victims and their families to seek punitive damages in cases involving death or serious injury. Photo: EPA
The new legislation allows patients and families to sue vaccine makers and distributors for punitive damages if they knowingly sell faulty vaccines that cause death or serious illness.
"This is the first time punitive damages have been introduced in civil cases relating to health," said Zhu Yonggen, a Beijing-based medical lawyer.
"Victims have never been awarded compensation higher than the actual amount of financial losses, including funeral fees, hospital bills and compensation for pay during sick leave."
Zhu also said the Supreme People's Court would need to issue guidelines before local courts can give any ruling on punitive damages.
China has been hit by a string of vaccine safety scandals in recent years, although there have no officially confirmed reports of deaths of serious injuries caused by faulty vaccines.
Currently if it is proved that a vaccine caused adverse health effects, victims will be liable for compensation from the local health authority if the vaccine was part of a national immunisation programme or from the drug makers if it is outside the scope of such programmes.
The level of compensation depends on the economic status of the area where the vaccine is administered.
The legislation is being introduced months after China's second largest rabies vaccine maker Changchun Changsheng Life Sciences was found to have falsified its production records, used out-of-date materials, mixed different batches of products and failed to test them properly.
Fourteen company executives and staff members were detained over the scandal and senior officials were sacked.
Although the company was fined 9.1 billion yuan (US$1.3 billion) and ordered to set up a compensation scheme to pay victims up to 650,000 yuan, demands for tougher regulations have been mounting.
Previous scandals have included the case of a major drug maker which was found to have sold 400,520 inferior DPT vaccines and a public outcry the previous year when it emerged that 570 million yuan of improperly stored or expired vaccines had been illegally sold across the country for years.
The new law identifies some violations as "serious breaches of the law", such as fabricating production inspection logs, changing batch numbers, filing fake data for lot releases, failing to recall substandard vaccine.
Such violations could see firms losing their licences and subject to fines worth five to 10 times the value of the products in question.
Legal representatives and staff holding key posts in the companies involved are liable to have their profits confiscated and be barred from the industry for 10 years.
Meanwhile, officials who fail in their regulatory responsibilities or are found to be involved in cover-ups or interfering with investigations will be punished "severely".This article appeared in the South China Morning Post print edition as: Mainland plans to let public sue drug firmsCOMMENTS

Based in Beijing, Zhuang Pinghui joined the Post in 2004 to report on China. She covers a range of issues including policy, healthcare, culture and society.